"An absolutely charming book… An adventure well worth your time… You're sure to enjoy it."
—Romantic Times
In Death at Bishop's Keep, Kathryn Ardleigh captured the interest of amateur detective Sir Charles Sheridan as they solved their first case together.
Now the death of a local constable and the disappearance of a child have Kate and Charles once again on the trail of deadly greed and criminal mischief. They team up with the shy, uncertain (but tactful and deeply perceptive) Miss Beatrix Potter to discover who killed the constable in Mr. McGregor's garden and kidnapped the constable's daughter.
Helping with this urgent task or blundering clumsily into the way are Miss Potter's animal companions, Mrs. Tiggywinkle and Jemima Puddleduck, as well as the beastly Mr. Tod and Mr. Brock.
Death at Gallows Green is the novel that prompted Susan's eight-book series, The Cottage Tales of Beatrix Potter. "I fell in love with Beatrix," she says. "I couldn't bear to say goodbye."
Praise for Robin Paige Victorian Mysteries
"I couldn't put it down."
—Murder & Mayhem
"Eminently satisfying… intricate mystery. Delightful pair of sleuths. A wonderful sense of atmosphere and place."
—Gothic Journal
"Good stories with a nice feel for the period. Intriguing and intelligent."
—Mysterious Women
"An original and intelligent sleuth… a vivid recreation of late Victorian England."
—Jean Hager
"This delightful Victorian romp will teach you much more history than you thought you ever wanted to know."
—Meritorious Mysteries
About the Authors
Robin Paige is the pseudonym of husband-and-wife team Susan Wittig Albert and Bill Albert. They are also the coauthors of more than sixty novels for young adults. They wrote the Robin Paige series over a twelve-year period: 1994-2006. (Photo 1998)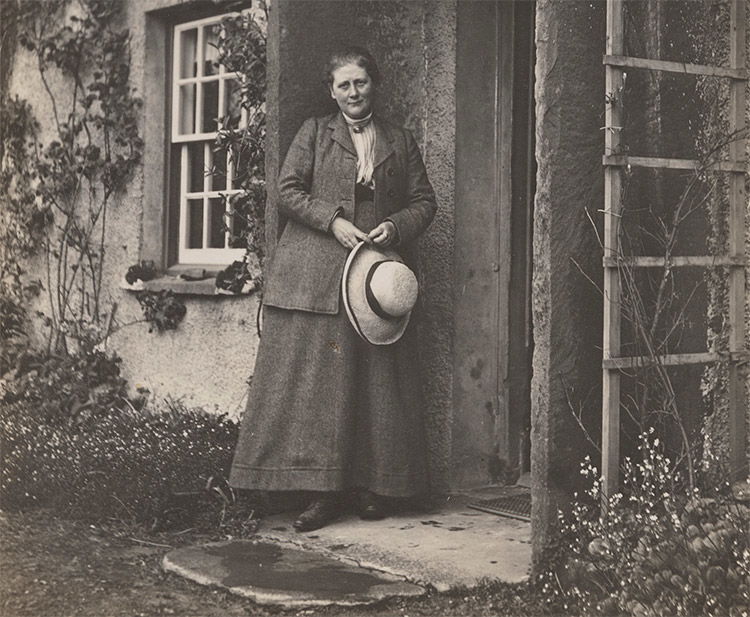 Beatrix Potter at Hill Top Farm (about 1905)
Resources
Read a brief biography of Beatrix Potter.
Take a virtual tour of Melford Hall, where Kate, Sir Charles, and Beatrix are spending a summer weekend.
Enjoy a collection of antique postcards picturing the village of Long Melford.
Read the true story of The Tale of Peter Rabbit, which (after six rejections) Beatrix published herself.